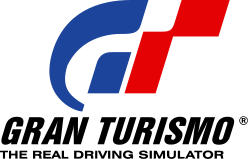 Gran Turismo (グランツーリスモGuran Tsūrisumo?, Italian for "Grand Tourer" or "Grand Touring", abbreviated GT) is a popular and critically acclaimed series of racing simulationvideo games developed by Polyphony Digital.
Developed exclusively for PlayStation systems, Gran Turismo games are intended to simulate the appearance and performance of a large selection of vehicles, nearly all of which are licensed reproductions of real-world automobiles. Since the franchise's first entry in December 1997 up until December 2011, a total of 65 million units have been sold worldwide for the PlayStation, PlayStation 2, PlayStation 3, and PlayStation Portable.
Gran Turismo can trace back its origins to 1992, when Kazunori Yamauchi set out with a group of seven to develop the original Gran Turismo, which took five years to complete.
The Gran Turismo series is developed by Polyphony Digital and produced by Kazunori Yamauchi.
The appeal of the Gran Turismo series is due significantly to the graphics, the number of licensed vehicles, the extent and detail of simulation, and the ability to tune performance. Handling of the vehicles is modeled on real-life driving impressions, tuning is based on principles of physics, and the sound of the vehicle's engine is based on recordings of the actual vehicles. The game has been a flagship for the PlayStation console's graphics capabilities, and is often used to demonstrate the system's potential.
Although Gran Turismo has an arcade mode, most gameplay derives from its simulation mode. Players start with a certain number of credits, usually 10,000 (18,000 in Gran Turismo 3; used cars were not present in this game; and 20,000 in Gran Turismo 5), which are used to purchase vehicles from several manufacturer-specific shops, or from used car dealers, and then tune their car at the appropriate parts store for best performance. Certain events are open only to particular types of vehicles. In order to enter and progress through more difficult races, a license-testing system has been implemented, which guides players through skill development. Players may apply prize money won in events to upgrade their existing car or buy a new one, collecting a garage of vehicles.
Since Gran Turismo 5 Prologue launched on the PlayStation 3, an online aspect of the gameplay has started to evolve. GT5 Prologue has enabled users to race online with up to 16 players on track at once. Gran Turismo 4 for the PlayStation 2 was actually the first online-enabled Gran Turismo game but the online aspect of the game didn't make it past beta stage.
According to Yamauchi, the cars in the first two games were made from 300 polygons, while those in Gran Turismo 3, 4 and Gran Turismo (PSP) were made up of 4,000 polygons, and those in Gran Turismo 5 were made up of 500,000.
Game history
Edit
The Gran Turismo series is represented by six primary releases, two for the PlayStation, two for the PlayStation 2, one for the PSP and one for the PlayStation 3. The series is also represented by many other "abbreviated" releases on the PlayStation 2 and PlayStation 3.
[edit]Primary releasesEdit
| Title | Year Released | Platform | Cars | Tracks | Sales |
| --- | --- | --- | --- | --- | --- |
| Gran Turismo | 1997/1998 | PlayStation | 178 | 11 | 10,850,000 |
| Gran Turismo 2 | 1999/2000 | PlayStation | 650 | 27 | 9,370,000 |
| Gran Turismo 3: A-Spec | 2001 | PlayStation 2 | 181 | 34 | 14,890,000 |
| Gran Turismo 4 | 2005 | PlayStation 2 | 722 | 51 | 11,440,000 |
| Gran Turismo (PSP) | 2009 | PlayStation Portable | 835 | 45 | 3,610,000 |
| Gran Turismo 5 | 2010 | PlayStation 3 | 1,049 | 51[6] + track editor | 7,430,000 |
[edit]Secondary releasesEdit
| Title | Notes |
| --- | --- |
| Gran Turismo (demo version) | During Christmas 1996, a special promotional demo of Gran Turismo was included with the PlayStationconsole. The demo was limited to an Arcade Mode race at Clubman Stage Route 5 with three cars (Subaru Impreza WRX, Honda NSX, and Chevrolet Corvette), with the race limited to ninety seconds (1 minute 30 seconds). |
| Gran Turismo 2000 | Gran Turismo 2000 was a demo on display at E3 in 2000/2001 promoting the Gran Turismo franchise as well as the capabilities of the PlayStation 2. Due to a delay in the release date, the name of the final version of the game was changed to Gran Turismo 3: A-Spec. |
| Toyota Prius demo disc | In the summer of 2004, Toyota sent a demo disc of GT4 along with a marketing brochure for its 2004 Priushybrid car by way of customer request from their web site.[8] The demo was also given out at a presentation of the Toyota MTRC at the New York International Auto Show. The demo disc featured only two cars, namely the Prius and the Toyota MTRC concept car. Two tracks were included, Fuji Speedway '90s and Grand Canyon, but each was limited to two minutes of play time. Toyota stopped offering the demo discs when the requests for the marketing brochure became disproportional to the real interest in their cars. The disc became a collectible item for Prius owners and is still sometimes available via auction at eBay. |
| BMW 1-series demo disc | Features four models of the 1-series (118i, 120i, 118d, and 120d), and three Gran Turismo 4 tracks – including the Nürburgring (driving around this circuit was limited to three minutes). BMW customers in the United Kingdom who ordered a 1-series before its official release date were invited to a private event at theRockingham Motor Speedway in Northamptonshire. On departure from the event, all guests were given a pack containing the demo disc. |
| Nissan Micra demo disc | With the release of Nissan Micra Roma, Nissan distributed a press kit for each concessionaire in several countries in Europe to promote the car. This press kit included several photographs, a press information booklet and three discs. One of the discs included in this kit is an official Gran Turismo demo named Nissan Micra Edition. |
| Nissan 350Z demo disc | Similar to the Nissan Micra Edition, this CD also comes in one of the many press kits available for the Nissan 350Z in the United States. There is no confirmation that a European version exists. The press kit containing the game demo comes with two other discs inside a silver folder. An additional booklet with information and pictures of the Nissan 350Z is also included. |
| Gran Turismo Academy Time Trial Demo | Featured the Indianapolis GP Circuit for the first time in the franchise's history and also included a tuned and stock Nissan 370Z. The object of the Time Trial was as the first stage of the 2010 GT Academy to find two of the best Gran Turismo drivers to end up competing in a real racing car in a real racing series. The demo showed off a new physics model and some graphical improvements to GT5 Prologue but was also criticised. Its primary objective was as the first stage of the 2010 GT Academy and not as demonstration of the upcoming Gran Turismo 5. |
| Tourist Trophy | Tourist Trophy is a motorcycle racing game. It was designed by Polyphony Digital, the same team that makes the popular Gran Turismo auto racing series. It was largely created off of Gran Turismo 4's game engine. Tourist Trophy is one of only two titles for the PlayStation 2 that is capable of 1080i output, the other being Gran Turismo 4. Polyphony Digital reused the physics engine, graphical user interface and all but one of the circuits found in Gran Turismo 4. However, the number of AI racers (computer-controlled opponents) has been reduced from five in the Gran Turismo series to only three. Tourist Trophy also uses the License School feature that was popularized by the Gran Turismo series, as well as the Photo Mode introduced in Gran Turismo 4. The B-spec mode, which appeared in Gran Turismo 4, was removed from Tourist Trophy. |
| Gran Turismo for Boys | A youth-focused Gran Turismo was announced in November 2004 with a scheduled release date of 2005., though the game was not released at that time. In September 2006, Kazunori Yamauchi confirmed the game was still in development. In April 2008, while discussing plans for Gran Turismo 5, Kazunori Yamauchi was quoted as saying, "we're hoping to make [Gran Turismo for Boys] a feature within GT5." |
[1][2]Official Gran Turismo kit with GT Force and Racing Cockpit.===[edit]Official simulator kits=== Polyphony Digital has collaborated with peripherals manufacturer Logitech and auto parts makerSparco to design official driving simulator kits for the Gran Turismo franchise. The most recent product designation is Driving Force GT. Two other racing wheels are compatible with Gran Turismo.
[edit]Official model car kitsEdit
In 2009, radio-control model car company HPI Racing released an official RC car tie-in: the HPI E10 RTR Ford GT LM Race Car Spec II designed by Gran Turismo (200mm), a pre-built officially licensed radio-control car kit built to look exactly like the cover car for the Gran Turismo 4 game. Plans for future releases include releasing more kits to replicate other Gran Turismo cover cars.
Gran Turismo Awards (SEMA)
Edit
[edit]6th annual Gran Turismo Awards (2008)Edit
The sixth annual Gran Turismo Awards was held at the SEMA show in Las Vegas, Nevada. The exhibitors were given a chance to have their car featured in a future version of Gran Turismo as a drivable vehicle, with Gran Turismo creator and series producer Kazunori Yamauchijudging the five finalists to award the "Best in Show" prize.
The awards ceremony was held at The Joint, located inside the Hard Rock Hotel and Casino (Las Vegas) and was hosted by experiencedFormula D driver, Tanner Foust. Following the ceremony, Hip-hop star Ludacris and special guests Tommy Lee and Dave Navarro treated the guests to a special live performance.
The winners of the awards are as follows:
Best Domestic: 1967 Chevrolet Camaro Rally Sport (James Shipka)
Best Japanese Import: 2008 Infiniti G37 (JR Rocha)
Best European Import: Volkswagen Concept Car (Robert Gal)
Best Hot Rod: 1933 the Factory Five Racing Hot Rod (Jason Lavigne)
Best In Show: 2008 Infiniti G37 (JR Rocha)
Recap of the 6th Annual Gran Turismo Awards
Reception
Edit
The Gran Turismo video game series has been one of the most popular over its lifetime, appealing to an audience ranging from casual gamers to fans of realistic PC racing sims. Because of the success of the Gran Turismo series, Guinness World Records awarded the series 7 world records in the Guinness World Records: Gamer's Edition 2008. These records include "Largest Number of cars in a Racing game", "Highest Selling PlayStation Game","Oldest Car in a Racing Game", and "Largest Instruction Guide for a Racing Game".
With a collective sales total of 61.41 million units sold,[13] it is the highest-selling PlayStation exclusive franchise of all time.
In the final issue of the Official UK PlayStation magazine, Gran Turismo 2 was chosen as the 5th best game of all time.[14]
Gran Turismo 6
Edit
Kazunori Yamauchi has stated that his company is working on Gran Turismo 6. It is unknown whether it will be for Playstation 3 or asuccessor.[15]
In March 2012 workers were seen on site at Mount Panorama in Bathurst, New South Wales, Australia, photographing and scanning the track. The workers revealed that Mount Panorama will be included in Gran Turismo 6.[16]
The Wikipedia Article http://en.wikipedia.org/wiki/Gran_Turismo_(series)