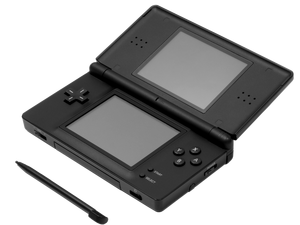 The Nintendo DS (ニンテンドーDS Nintendō DS?, abbreviated to DS or NDS) is a portable game console produced by Nintendo, first released on November 21, 2004. A distinctive feature of the system is the presence of two separate LCD screens, the lower of which is atouchscreen, encompassed within a clamshell design, similar to the Game Boy Advance SP. The Nintendo DS also features a built-in microphone and supports wireless standards,[4]allowing players to interact with each other within short range, or online with the Nintendo Wi-Fi Connection service. The Nintendo DS is the first Nintendo console to be released inNorth America before Japan.
On March 2, 2006, Nintendo released the Nintendo DS Lite, a redesign of the Nintendo DS, in Japan. It was released in North America, Europe, and Australia in June 2006. The DS Lite is a slimmer, smaller, and lighter version of the Nintendo DS; it also has brighter screens. Nintendo of America refers to the older model as the "original style" Nintendo DS,[5] but it has also been nicknamed by fans and the media as the "DS Phat."[6] On November 1, 2008, Nintendo released the Nintendo DSi, another redesign of the Nintendo DS. The DSi possesses more powerful hardware than the original DS, including a faster CPU and moreRAM. Unlike previous models, it does not feature a slot for Game Boy Advance games, but instead features a slot for SD cards. On November 21, 2009, Nintendo released the Nintendo DSi XL, a model featuring larger screens, and a greater overall size, than the original DSi.
The Nintendo DS is the successor to the Game Boy Advance series of portable consoles, with the DS and DS Lite models featuring single-player backwards compatibility with Game Boy Advance games. The console's name officially stands for "Developers' System", an expression of Nintendo's hope that the system would inspire innovative game design from developers. "DS" also stands for "Dual Screen", the system's most obvious and distinctive feature.[7] As of December 31, 2011, all Nintendo DS models combined have sold 151.06 million units,[1] making it the best selling handheld game console to date, and second best selling video game console overall, behind the PlayStation 2.