Uncharted is an action-adventure platform video game series developed by Naughty Dogand published by Sony Computer Entertainment for the PlayStation line of video game consoles. The series follows modern-day treasure hunter Nathan "Nate" Drake and his companions, Elena Fisher and Victor Sullivan, as they travel around the world to uncover various historical mysteries.
The series includes Uncharted: Drake's Fortune, its sequel Uncharted 2: Among Thieves, a motion comic prequel Uncharted: Eye of Indra, and the next sequel Uncharted 3: Drake's Deception, with all three games exclusively for the PlayStation 3. With the first game starting out as a launch title for the PS3, Uncharted has become one of the most critically acclaimed video game series of all time. Among Thieves is the highest rated title of the series so far, with it currently standing as the 2nd highest rated PlayStation 3 title on Metacritic.[1] There is also Uncharted: Golden Abyss for Sony's PlayStation Vita handheld system. A film adaptation has been announced. The series has sold 13 million copies worldwide as of December, 2011.[2]
Uncharted: Drake's Fortune sees Drake travel to the Amazon and an Uncharted island off the coast of South America. Uncharted 2: Among Thieves explores the snow-capped mountain landscapes of Tibet, a museum in Istanbul, the jungles of Borneo and the urban landscapes ofNepal. Uncharted 3: Drake's Deception sees Drake through a number of locations, including the streets of London and Colombia, a château in France, a castle in Syria, a city in Yemen and the sprawling deserts of the Rub' al Khali.
[1][2]During combat, the player as Nate (left) can use corners and walls as cover, then use blind or aimed fire from cover against his opponents.Gameplay in the Uncharted series is a combination of action-adventure gameplay elements and 3D platforming with a third-person perspective. Platforming elements allow Nate to jump, swim, grab and move along ledges, climb and swing from ropes, and perform other acrobatic actions that allow players to make their way through the many challenges that Nate will have to face.[3]Although a wide variety of weapons are present in the game, the player can only carry a sidearm (pistols and the like), a primary weapon such as a rifle or shotgun, and a handful of grenades. These weapons are obtained by picking up weapons dropped by a downed foe or from those scattered around the various maps.
Multiplayer gameplay was introduced in the sequel, Uncharted 2: Among Thieves, comprising both competitive and co-operative multiplayer. The co-op multiplayer allows a maximum of three players to take the roles of Drake and two other "hero" companions and features missions involving gunfights, platforming, and teamwork-based objectives.[4] Players can also assist their comrades if they become critically injured or if they are grabbed by an enemy.[4] The competitive multiplayer allows a maximum of ten players to play against each other in two teams of five. Six competitive modes are featured: Deathmatch, Plunder, Elimination, King of the Hill, Turf War and Chain Reaction.[5] Deathmatch features two teams of five, with one team acting as heroes and the other as villains. Players can choose their own appropriate character models (such as Drake, Elena, Sully and new characters Tenzin and Chloe for the heroes team). As players accrue points and rank up, they can purchase more skins for both heroes and villains.[5]
[edit]Uncharted: Drake's FortuneEdit
Main article: Uncharted: Drake's FortuneUncharted: Drake's Fortune, the first in the series, combines action-adventure and platform elements with a third-person perspective to chart the journey of protagonist Nathan Drake, supposed descendant of the explorer Sir Francis Drake, as he seeks the lost treasure of El Doradoin South America with the help of journalist Elena Fisher and mentor Victor "Sully" Sullivan.[6]
[edit]Uncharted 2: Among ThievesEdit
Main article: Uncharted 2: Among ThievesUncharted 2: Among Thieves takes Drake on a journey across Nepal and the Himalayas in a search for the lost city of Shambhala. It reunites most of the cast from the first game, such as Elena Fisher and Victor Sullivan and introduces the stealth mechanic and new charactersChloe Frazer (a new love interest who has history with Drake), Harry Flynn (a shifty former partner of Drake's), and Zoran Lazarević, a Serbianwar criminal and the game's primary antagonist. The second game also introduces a multiplayer mode to the series.
[edit]Uncharted 3: Drake's DeceptionEdit
Main article: Uncharted 3: Drake's DeceptionUncharted 3: Drake's Deception is the third game in the series, and, like its previous installments, is a PlayStation 3 exclusive action-adventure platform video game developed by Naughty Dog and published by Sony Computer Entertainment. It was released in November 2011. The story focuses on the hero's relationship with his mentor and father figure, Victor "Sully" Sullivan, and new characters Charlie Cutterhas him searching for a legendary lost city that will ultimately take him to the Arabian Peninsula and the vast wasteland of the Rub' al KhaliDesert, also known as the Empty Quarter (Said legendary lost city has been known by various names, including "Iram of the Pillars" and the "Atlantis of the Sands"). It includes new features such as enhanced backward climbing and the ability to fight multiple enemies at once[citation needed].
[edit]Uncharted: Golden AbyssEdit
Main article:
Uncharted: Golden Abyss
Uncharted: Golden Abyss
is a title for Sony's
PlayStation Vita
. It was developed by
SCE Bend Studio
, with development being overseen by
Naughty Dog
. It was released first in Japan on December 17, 2011. The release date in North America was February 22, 2012. The game's events will take place sometime before those of
Drake's Fortune
, though developers have stated that it is not a prequel to Drake's Fortune but rather a separate original story.
[7]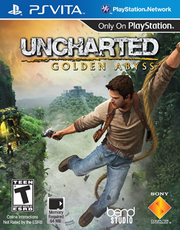 Adaptations
Edit
[edit]Uncharted: Drake's TrailEdit
Drake's Trail is a now defunct 2007 online web game. Consisting of ten chapters, the story, serving as a prequel to Drake's Fortune, recounts journalist Elena Fisher hiring a private detective to track down famous treasure hunter Nathan Drake believing he is onto something big.[8]
[edit]Uncharted: Eye of IndraEdit
On October 22, 2009 Sony Computer Entertainment America released the first of a four part series adventure called Uncharted: Eye of Indra.[9] It is a prequel to Uncharted: Drake's Fortune. The second part was released on November 25, 2009, while the third and fourth parts released simultaneously on December 7, 2009.[10]
[edit]Uncharted: Drake's Fortune (motion comic)Edit
A motion comic adaptation of the prologue of Uncharted: Drake's Fortune, starting with the discovery of Francis Drake's coffin and up to the first encounter with Gabriel Roman. Uses the same voice clips from the video game.[citation needed]
[edit]Uncharted: The Fourth LabyrinthEdit
A novel based on Uncharted video games that is to be released during Q3/Q4 2011. The novel is written by Christopher Golden and published by Del Rey Books, and will supposedly follow the search for the Daedalus's Labyrinth, a maze used to hold the Minotaur, a monster from Greek mythology. Del Ray is the publisher of other Sony based novels, such as Resistance: The Gathering Storm (from the Resistanceseries), and the God of War novel.[11]
On July 19, 2011, Sony announced that an Uncharted comic book will be released by D.C. Comics around the time Uncharted 3 comes out. It will be written by Joshua Williamson, with art by Sergio Sandoval and covers by Adam Hughes [12] It is set to be released on November 30, 2011,[13] as part of a 6 issue mini series. "A quest for the legendary "Amber Room" launches Nathan Drake on a journey to the center of the earth." [14]
Film producer Avi Arad has stated that he is working with a division of Sony to develop the film adaptation of Uncharted.[15] In response to a question posed to Richard Lemarchand, lead game designer of Naughty Dog, on whether he would like to see a film adaptation of Uncharted, he replied "no comment".[16] Since then, Columbia Pictures has confirmed that an Uncharted film is being developed. It is to be written byJoshua Oppenheimer and Thomas Dean Donnelly and produced by Avi Arad, Charles Roven, and Alex Gartner.[17][18][19] As of June 30, 2009 it was confirmed that the Uncharted film has been in development for the last year-and-a-half.[20] Nathan Fillion has expressed interest in playing Nathan Drake, and started a campaign on Twitter to encourage fans to support him in this endeavour.[21] In a recent interview, Naughty Dog told PlayStation University how close they really are with the development of the movie and that they have trust with all who are working on it.[22]
On October 8 it was announced by Doug Belgrad and Matt Tolmach, presidents of Columbia Pictures that David O. Russell (Three Kings,The Fighter) has been set to write and direct Columbia Pictures' Uncharted: Drake's Fortune, an action-adventure based upon the first game in the series. The film would be produced by Avi Arad (Spider-Man), Charles Roven (The Dark Knight), and Alex Gartner.[23] Following a screening of David O. Russell's film, The Fighter, he was approached by a fan of the Uncharted series who asked whether or not he had considered Nathan Fillion for the role of Nathan Drake for the upcoming film due to the high number of requests for him to fulfill the role. Russell was unaware of the interest in Fillion and who he was and seemed to quickly dismiss the idea.[24]
On November 24, 2010, an interview with Mark Wahlberg was published by MTV with the actor discussing his involvement in the film adaptation of the popular franchise. He states that David O. Russell is currently writing the script and is excited for what he has in store, hoping to shoot in the middle of 2011: "I'm obviously in whatever David wants to do but the idea of it is so off the charts: De Niro being my father, Pesci being my uncle. It's not going to be the watered-down version, that's for sure." [25]
On May 26, 2011, it was reported that David O. Russell had dropped out from directing the video game film, with a new screenwriter being sought by Columbia Pictures.[26] On July 6, Variety reports that Neil Burger (Limitless, The Illusionist) is stepping in for David O. Russell.
Burger landed the offer after the studio and producers Avi Arad, Ari Arad, Charles Roven and Alex Gartner sparked to his new take on the pic. Burger spoke out about the film in July, saying the following:[27] We're re-writing the script from scratch, and I'm just jumping into that literally right now, about to close the deal and leap off. Until the screenplay is written you never know who's going to be acting in it or not. But there are a lot of good actors out there who even look like Nathan Drake and who could do it. I love the project, I think it's a great adventure and it's a wild insane ride ... the game is and the movie will be. I mean it has pretty great character at its core, Nathan is a bit of a con man, a hustler ... knows his stuff, ballsy..it's great. Absolutely. And then you know you have to do what a movie does best, as well ... build on what's cool about the game and then make it into a movie. Yeah there will be (balance) in this one, this one is a very great adventure, and it's just a matter of pulling out the the [sic] very cool intense stuff that works for the film story, and making sure the story supports those elements and also makes us really connected to the character.
Characters
Edit
Main article: List of Uncharted characters===[edit]Main series===
Other media, including a comic, have contributed to the Uncharted series. A handheld game and a film adaptation is also in production, the cast of which is not yet known though three actors are in talks to playing certain characters.[25]
Reception
Edit
The Uncharted series has received universal critical acclaim from reviewers and gamers. The first game in the series, Uncharted: Drake's Fortune received numerous positive reviews from critics with a total of 89.70% on GameRankingsand 88/100 on Metacritic. The second title in the series, Uncharted 2: Among Thieves has been met with much higher acclaim than the first title in the series, garnering a total score of 96.46% on GameRankings and 96/100 on Metacritic. The second title has also received numerous awards such as Overall Game of the Year of 2009 from IGN[36] as well as Overall Game of the Year from the SpikeVideo Game Awards 2009.[37] The Uncharted series has sold over 13 million copies worldwide.[38].